Google 360 Virtual Tours For Your Business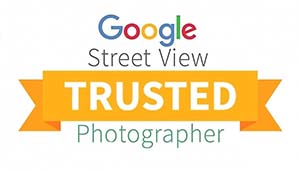 The main ingredient for a solid customer base boils down to one verb: google. Google searches are the beginning and the end of all roads that lead to the purchase of a new item or service. The creation of the powerful Google 360 Virtual Tours has changed the face of marketing when it comes to the consumer experience. These tours are believed to affect the consumer interest by as much as a full 100%, a solid sign that having a virtual tour available for your business will drastically change the number of customers you hope to draw. Sounds pretty amazing for the local business owner, right? But… there's always a catch of some sort. Wouldn't such a service would be outlandishly expensive? It could be, but not if you hire the right company for the job.
We know and appreciate that our customers are real people with real limitations. We provide excellent work, but we aim to get the job done at a fair price. Our customers don't have millions of dollars to spend on growing their business, but they have found that it does take money to make money.
We are excited to be a Google 360 Trusted Photographer! We are certain that enabling our clients to gain access to the power of a virtual 360 tour will transform their business and grow their numbers to new heights. The age in which we live requires us to jump in the Google game full-force and stay current if we are going to maintain a competitive edge in our particular corner of the world.
If you want to gain more visibility for your business on Google, then you need to look into the addition of a Google 360 Tour. We would love to learn more about your business and tell you how the Google 360 experience, as well as our many other web services, can transform your customer's current experience. Contact us today!
Frequently Asked Questions About 360 Virtual Tours
Do I own the photos? 
Yes, you will own the photos once you have paid for this service and the shoot is completed. Keep in mind that by uploading the virtual tour, you will also license the use of the photos to Google who will publish the imagery.
Will the photo shoot disrupt my business operation?
We know you're running a business, and that's why we designed photo shoots to be as non-disruptive as possible. We will work around your schedule to ensure that photos are taken at a convenient time for you and your business. Photo shoots do not require any sort of special equipment, lighting, or setup, so you are free to stay open. Although photo shoots are non-disruptive and should not interfere with your normal business operations, it's a good idea to let your customers know photography is in process and to avoid being in view of the camera, whenever possible.
Which areas of my business will be photographed?
Photo shoots will include the main customer-facing areas of your business. You can work with the photographer to determine what areas of your businesses you would like to highlight, or even exclude from the shoot. Once again, the goal of the photographs is to show customers what they would expect to see if they visited your business on a normal day.
What is Google My Business?